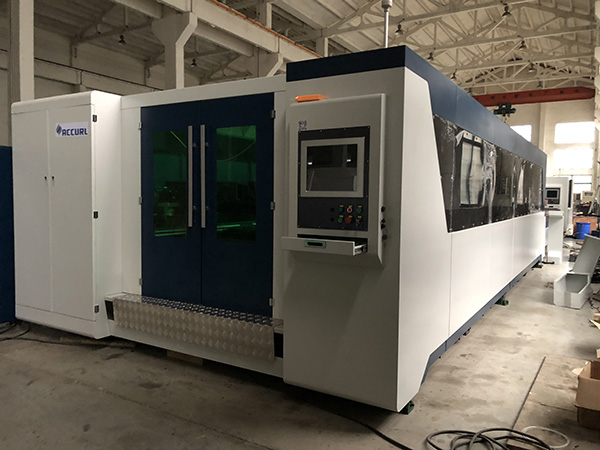 Specifications
---
Kişandina Area: 3000mm * 1500mm
Kişandinê: 30m / min
Piştgiriya Grafîk Format: AI, PLT, DXF, BMP, DST, DWG, LAS, DXP
Serîlêdana: Laser Cutting
Rewş: Nû
Kişandina Paqij: Material
CNC an na: Na
Mîhengkirina şîn: Water Cooling
Şoreşa Controlê: Şangreya Şypê
Cihê Origin: Anhui, Çîn (Mainland)
Navê Nave: ACCURL
Sertîfîkasyon: CE, ISO, SGS, UL, CCC
Peymana: 2 Salan, avahiyek makîneya 10 salan
Mode Power: Fiber
Benda Lathe: Plateya welded plate
Beam aluminium cast: Reqfa Bilind û sazkirina hêsan
Sîstema lubricasyonê ya otomobîlê: Free ji parastinê
Beralîkirina Bilind: Ji bo kalîteya kalîteyê hilbijêre
Serê kişandina laser: IP IP / Raycus
Jiyana Kar: 100k saetan
Guarantee: 2 sal ji bo parçeyên bingehîn
Lezkirina Kişandinê: 0-35m / min
Product Description
---
Serdana hilberînê
binirxandina jêrînek laser kişandina 1000w 1000w bi wiya wireless wifi
Metal laser cutting machine Siftkirina otomatîk ji hêla pergala mekanîzmayî ve tête kontrolkirin. Vê pîşesaziya vê teknolojiyê teknolojiyên pêşkeftî yên lîberî, dîjîtal, û mekanîzmayên rastîn tengas kir.
Laser Cutting Machine Metal Parameters Metal Metal
| | |
| --- | --- |
| Karkeriya Kar | 1500X3000mm |
| Laser Output Power | 500w-4000w |
| Material Applicable | çarçoveya mîkrofona navîn |
| Laser Wavelength | 1070nm + 10nm |
| Cutting Thickness | ≤16mm |
| Lezê herî zêde | 60m / min |
| Max Cutting Speed | 30m / min |
| Positioning Accuracy | ± 0.05mm |
| Laser Wavelength |  1070nm + 10nm |
Laser Cutting Machine Metal Key Features
(1) lêçûna pir kêm, tenê saet tenê di 0.5W to 1.5W de elektrîkê kir, hemî cureyên mîkrojeyê bi avê veşêre;
(2) Lasersên sereke yên bazirganî, fonksiyona bilind û bêdeng e, jiyana 10000 saetan derbas dibe;
(3) Lez û berbi berbi berbi bilind, lezkirina qonaxa qut dikarin 10 mîlye dirêjî lênêrîna laser-free;
(4) Germ û germî û rûrek û piçûkek biçûk;
(5) Pergala gazê servo motor û gearing imported ku ji bo kişandina rastîn;
(6) nivîsbarek dakêşkirî ji bo grafîk an nivîskî bi lezgîn an jî pêvajoyê ve dibe. Operasyonek hêsantir û hêsantir.
Girêdanên Detailed
---
Bêguman destnîşankirin
Vebijêrk bixweber bixweberên lênêrîna navendî tête kirin ku ji bo xweserkirina otomatîk û plûreyên cûrbawer ên cûda yên bixwe bike. Hêza bixweberkirina otomatîkên bi fêrbûna lensî deh caran ji rêvekirina destûra ye.
Girêdana mezin bigirin
Guherandina qezenc-10 mm ~ + 10mm, precision 0.01mm, ya ji bo ~ 20mm cûreyên cûda yên cûda hene.
Jiyana xizmetê
Lensên Kolimator û lensên faktor jî herdu her du sinkê germbûna avê hene ku ji ber serê germê kêmkirina jiyanê ya serê serê xwe kêm dike.
Çavkaniya laser
1. Destûra rasterast ya tevahiya fîberên lîberê; Control control of laser source;
2. Lezê bilind
3. Pirtûkxaneya danûstandinê jêbirin;
4. Zêdetir ji 100,000 demjimêr karên jiyanê yên dedehî, hema hema hewayê belaş.
Ji bo ewlehiyê biparêzin- - Hemû materyalên raweyên germî ye ku ji bo tundûtûjiya hundurandinê serbest bike. - Bedê tengahî ye ku heta ku tengahiyê berbiçav be ku qezenc be.
Avahiya navxweyî ya bedenê avahiyeke firotanê honeycomb veguherîne, ku ji hêla çend tubên rectangular ve tê veguhestin. Stiffeners di bin tubes de armanc kirin ku hêz û tensîliya hêza bêdengiyê zêde bikin, ew jî berxwedana berbiçav û aramberiya rêberê rêberê zêde dibe ku ji bo ku bi bandorkirina nivînên bêdeng biparêzin.
Hêza bilind, îstîqrar, hêza tansîl, 20 salî bikar bînin ku bêyî tevlîhevkirinê;
Bihêziya dûpên pisîka rectangular 10mm e, û 4500 kg.
Rêberê Rêberê 
1. Parastina berxwedanê
2. Performansa Bilind û Performansa Stable
3. Hêza dengê kêm e
4. rastiya rastîn û jiyanê ya dirêj
FAQ
---
1.Q: Ma hûn şirket an çêkerê bazirganî ne?
A: A leaser pîşesaziya ku ji bo hilberîna makêrînê ve tête kirin û nûvekêşandinê û R & D di pîşesazên laşê de pêk tê.
2. Q: Tiştên makîneyên gelemperî hene, kîjan divê ez bijartim?
A: Parameteyên pîşesaziyê di her hilberek demoyê de pêşkêş dikin, kerema xwe barkirina daneyên daneyên teknîkî kontrol bikin. Ji bo prototype ya herî baş bijartin ku ew hemû daneyên danûstandin e. Di heman demê de, tîmên firotanê me ji bo xizmetên xwe online pêşkêş dikin ku tevliheviya xwe çareser bike, ji bo ku hûn pêwendiyê me têkilî bikin.
3.Q: Ez digerim ku fişkeya laser-laser 1000w, lê pêşniyarê min digerim?
A: Hi, there. Ji bo xemgîniya we di derbarê 1000mmweya laşê me de xemgîn e. Pêdivî ye ku ji me re derbarê daxwaza bikişandinê (materyal, tilmîn, hêvî û hêviya te), pisporên firotanê yên me di dema dema we de daxwazê şêwirmendiya xwezayî ya taybetmendiyê pêşkêş dikin.
4. Q: Dema ku min ev CNC Laser meta / fiber laser û mifteya laserê ya 1000-1000wê ya metal, lê ez nizanim ka ew çawa bikar tîne. Derewînê bedew û biçûk?
A: Em ê bi vibratorê vîdyoyî û destûra îngilîzî bişînin. Heke hûn hîn hinek şikir hene, em dikarin bi telefonî û skype û e-nameyan biaxivin.
5. Berî min lêpirsînek li ser fîra fîra me dike şand, ji bo we ji bo agahdariya min ji bo min baştir e
1) Mezinahiya materyalê an nehêlê we ne. Ji ber ku di fabrîkaya me de, me li gorî herêmê karkerên cuda hene.
2) materyalên we.
Metal / Acrylic / plywood / MDF?
3) Hûn dixwazin tevlîhev an jî jêbirin?
Heke jêbirin, tu dikarim ji min re qirêjiya xwe bidim? Ji ber ku tîrêjbûna cûda cûda hewceyê hewceyê laser-a-hêz û laser-hêza cûda heye.