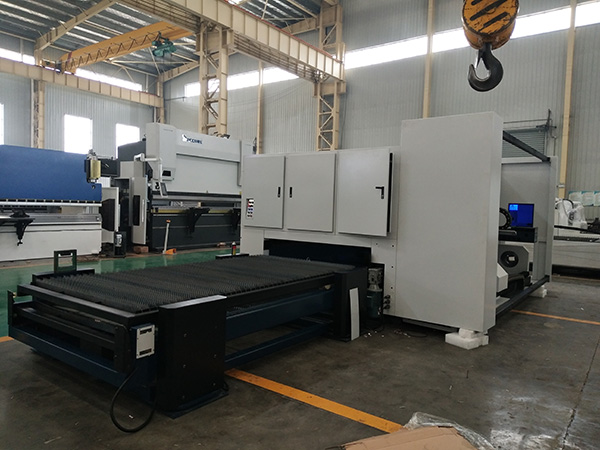 Specifications
---
Kişandina Lezê: 72m / min
Piştgiriya Grafîk Format: AI, DST, DWG, DXF, DXP, LAS
Serîlêdana: Laser Cutting
Rewş: Nû
Cutting Thickness: 6mm
CNC an na: Na
Mîhengkirina şîn: Water Cooling
Kontrola kontrolkirina bernameyê: kontrola qeydkirinê
Cihê Origin: Anhui, Çîn (Mainland)
Navê Nave: ACCURL
Model Number: KJG-150300DT bi 800W
Certification: CE, ISO, SGS, UL
Laser type: IPG fiber laser generator from USA
Laser wavength: 1070nm
Laser power output rating: 800W
X-axa rêwîtiyê: 1500mm
Y-axis rêwîtiyê: 3000mm
Pîvana xebatê: dabeşkirina vekirî, maseya pêdivî ye
Pîvana ajotinê: Pergala ajotinê û pergala ajonê
Piştgiriya format: PLT, DXF, AI jî
Positiona rastiyê: 0.05mm
Bawareya tevahiya elektrîkê: 10KW
Piştgiriya Xweseriya Xweseriya Xerîbên ku ji bo xizmetên xizmeta xizmetê ve hene
1) Li ser Çînek kişandina laşê ya li Çînê herî bilind ya li Çînê, dikare bi rengek piçûkek piçûkek biçûk bike, bi rêjeya nîvê coinê û qeqalî 6mm mildê jêbirin, 120 beles dikare di nav deqe de bête qut kirin.
2) Dermankirina germkirina 600 ℃, di 24 rûnê de rûnê avê, rûnê 8 metre germê, welda parastina CO2 ya rastîn, da ku ji 20 salan bê karanîna piştrast bikin.
3) Dema laser karanîna sêwirandinê ya kabîneya întegrasyonê, qada piçûk, cihan biparêzin, designa minimalist.
4) Dîzamek hevpeymaniya sîteyê, herdu aliyan dikare qirêjê paqij bikin; Pêdivî ye ku pispor bi rommê tune ne hewce û rast heye; Amûra lîberpera pneumatic ji bo pêşîlêgirtina materyalê ji ber veguhestinê.
5) Bi taybetî ji bo çarçoveya petrolê ya 0.5-6mm, stainless steel 0.5-5mm, steel, galvanized steel, elektrolytic pirtûka zinc-coated, silicon steel and other types of metal sheet sheet.1000W dikare dikare 3mm aluminum û 2mm cop.
Fiber Laser Metal Cutting Machine Technical Parameters

Numreya Model

Tîpa Laser

IPG / Coherent / Raycus

Laser Power

Cutting Area

                                                          1500mmX3000mm

Structural Table

Pergalê Control

PMAC control fullo closed-loop servo

Positioning Accuracy

Mode Driving

Destûra / Pêvajûkirinê

72m / min / 36m / min

                      100m / min / 30m / min

Laser Head

                                            Precitec / Laser Golden Golden / Laser Mech

Sîstema Cooling

                                          Germahiya duyemîn dual control chanser

Pergalê Parastina

            Tîpa vekirî

                                  Parvekirina parastinê

Support Support

                                                 PLT, DXF, BMP, AI, DST, DWG, etc.

Navê min

                                                                  380V / 220V

Total Power

          7KW / 11KW

                              17KW / 8 ~ 22KW

Zeviya Parçe

     5.6mx 3.2m

                                        9m X 4m

Konseya Standard
4750mm (L) * 2250mm (W) * 1689 (D)

3.2 T

4.Da jêrîn ya mijara darûyê darikê zêrînek zêrîn, bi hêsantir bi destûra karûbar û veguhestinê ye.
3. Pirrjimarte ku mînakek bi karûbareke xwerû vekirî ye.
2. Hemî parçeyên spare yên makîneyê ji hêla materyalên hûrgelan ve hatine binçavkirin, bi taybetî bi karûbarê pîr.
1. Di heman demê de mijara darvekirina darînek piştî dermankirinê tê.