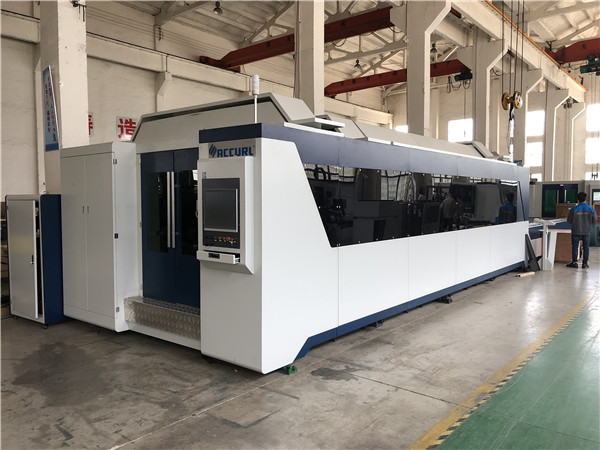 Specifications
---
Kişandina Lezê: 40m / min
Serîlêdana: Laser Cutting
Rewş: Nû
Kişandina Kûçik: 20mm (Li gorî marerial)
CNC an na: Na
Mîhengkirina şîn: Water Cooling
Cihê Origin: Anhui, Çîn (Mainland)
Navê Nave: ACCURL
Certification: CE, ISO, SGS, FDA
Product name: Fiber Laser Metal Cutting Machine
Fonksiyonê: Kişandina Materyalê
Power supply: 380V 50Hz / 60Hz / 60A
Sîstema kontrolkirinê: Sîstema Control Controlê
Rin: Spî
Peymana: 1 Sal
Kişandina materyal: şehlên, metal
Power: 1500 W
Piştî xizmetên piştî-firotanê: Hêzên xizmetê nexwarî
Product Description
---
FIBER LASER KUTING MACHINE nû hatiye afirandin. Ew xwedî rakêşkêşî ye, ne tiştek metal an nehêl. Fiber laser cutting machine with imported TBI screws, Délta motor and guide screws ball. Paqijkirina rastiyê ya makîneyê 0.008mm, dihêle, da ku ji bo kalîteya kêlîkê û materyalên ne-metal piştrast bikin.

Paraserê Teknîkî ya 1390 Laser Cutting Machine

Optical Fiber Laser Cutting Machine

6mm (Steel or steel stainless steel)

Tîpa pişka Tîpa TBI-êkêşê

Mifteya Operasyona Mifteyê

Kind Of Drive

Dravkirina paqijkirina gravê

X / Y / Z Axis Servo Motor

750W / 750W / 200W (Japonya)

Strong Exhaust Fan

220v-50hz-750w (Çînê)

Water Chiller

Tong Fei (Çînê)
1.Dravkirina pîvana bilind
2. Parastina hawirdorê
3. Material of high quality
4. Piştî xulamê firotanê
Xizmeta me
---
ez.Ji xizmetê:
Xizmetên Pêşdebirin Pêşîn: Di lêpirsîn û piştevanîya şêwirmendiyê, piştevanîya nimûneyên nermalav ên balkêş, Bazirganiya me bibînin
Xweseriya piştî-firotanê: 24-hour-dayek teknîkî ya teknolojî, bi telefon an vîdyoyek online, Dostaniya bikarhênerê ya makîneya karûbarê Îngilîzî-ê bikar tînin û karûbarên Înternetê bikar tînin.
II. Fabrîka mifteya mezin û kapasîteya hilberîna hilberîna pirfireh, ku dikare di demeke kurt de biçûkên mişterî bigire.
III. Em ê hêza bazara darûvekirina firotanê, ji bo firotanê. Ew piştî ku di dema demeke dirêj de veguhestinê de baş e ku makîneya baş baş biparêze.
IV. Em vîdyoyek berfirehtir heye ku her beşek operasyonê nîşan bide, da ku hûn piştî makîneyê bibînin, û wext bi kar bînin, û em jî bi temamî xwe re hewceyê ku hûn tenê ji bo karê vîdyoyê bikin bikin.
Packing & Delivery
---
1.Padi kincirvanan de ku ji bo veguhestina dûr dirêj e.
2. Danîmarkî: Di nav 60 salan de piştî paşdanê we bigirin.
3. Gelek mercên peyda: 30% T-T pêşdibistanê wek pêşîn, 70% tercîhê pêşdibistanê T / T berî danîn.
Ger pirsek din heye, an jî bêtir hewceyê pêdivî ye