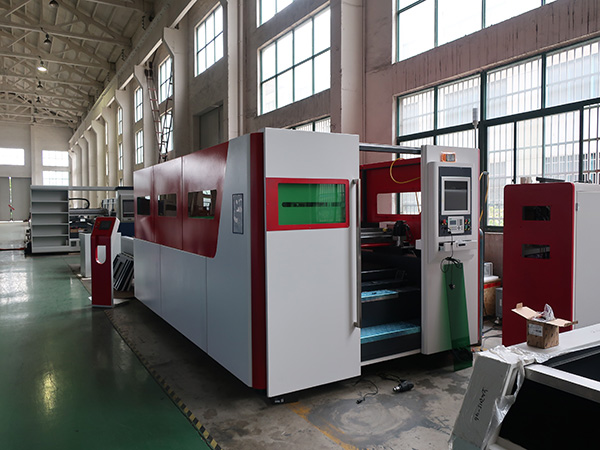 Specifications
---
Area: 1500 * 3000mm
Kişandina Kêliyê: 0-40000mm / min
Piştgiriya Grafîk Format: AI, PLT, DXF, BMP, DST, DWG, LAS, DXP
Serîlêdana: Laser Cutting
Rewş: Nû
Kişandina Kişandinê: li ser materyalê girêdayî ye
CNC an na: Na
Mîhengkirina şîn: Water Cooling
Sîgorta kontrolkirinê: Cypcut
Cihê Origin: Anhui, Çîn (Mainland)
Navê Nave: ACCURL
Certification: CE, ISO, FDA
Warranty: 3 sal
Navê: Mifteya laşê fîra fiber
Laser power: 500W / 750w / 1000W / 2000W / 3000W
Lezê Moving: 40m / min
Max Cutting Speed: 25mm / min
Şewitandina şan: Water Cooling
Rêwîtina ajotinê: Berpirsê Servo Motor
Þîfreyę Bigere: Fiber Laser Cutting Machiens
Çarçoveya min: 0.1nm
Driving and rails: Rails of Servo Motor and Linear Imported
Product Description
---
NO.1 Hûrgelên me yên makîneya laşê me
1. Damezrandina pirtûka gantry û dorpêçek navendî ya ku ji bo berxwedana bilind, hebûna berxwedanê, berxwedana berxwedanê bigire.
2. Sîstema laser-çavkaniya bilind û pergala xebitandinê ya ku di bandora herî baş de berbi çêkirin.
3. Pergala pergala sarfîlm a perfect, pergala lubricasyon û pergala dermankirina mûleyê ye, da ku ji bo ewlehiyê, bi bandor û xurt dibe.
4. Mijarek dikare ji bo amadekirina otomatîk ya otomatîk ji bo dirêjkirina navendî û kalîteya berbiçav ya dewlemend aktîf dike.
5. Mînak ji bo kalîteya kurtkirina berbiçav û berbiçav yên cûrbekirî tê bikaranîn.
6. Saziya CAD / CAM-nivîsbarê bernameya xweseriya xweserî û pergala xweserî ya otomatîk ya otomatîk hebe ku bi awayek materyalên raweyên xilas bike.
7. Pergala CNC ya bi riya veguhestina Ethernet re pêvajoyek dûr û pêvajoyê dûr dikeve dema di pêvajoya kêşeya laşê de dibe.
NO.2 Serlêdana Mifteya Mifteyê
1. Berhemên pêkanîn: Berhemên Laser Kişandina Amûrên ji bo kişandina metalê ya bi Stenbolê ya Stenbolê, Mîlok Steel Plate, Plateya Alloy Steel, Sheet Spring Spring, Iron Plate, Iron, Galvanized Sheet, Plate Aluminium, Brass Sheet, Bronze Plate, Gold Plate, Silver Plate, Plate Titanium, Metal Sheet, Metal Plate, Tubes & Pipes, etc.
2. Wezareta Derfetê: BODOR Tîrmehên Barker ên Pêwîstî li Billboard, Advertising, Signs, Signage, Metal Letters, Letters Leders, Kitchen Letters, Sheet Metal Processing, Metals Components and Parts, Ironware, Chassis, Racks & Pêvajoya Cabinets, Metal Crafts, Metal Art Ware, Kêleya Elvekirina Etel, Hardware, Auto Parts, Glasses Frame, Elektrîkê, Nameplates, etc.
Navê Navekî

fiber laser cutting machine

Max Cutting Range

3000 * 1500mm

Mezinahiya Mifteyê (L * W * H)

2.4 * 4.7 * 1.9m

Parts Parts (L * W * H)

Chitler 1 * 1 * 1.2m Box Box 1 * 0.8 * 1.8m
Modela Fiber Fiber 0.5 * 0.6 * 0.14m

Laser Medium

Modulekek Korea Semiconductor Single

Max Cutting Speed

25m / min

Cooling Way

Water Cooling

Pêdivîkirin

0.2-6mm

Driving and Transmission Way

Rênerê Rêberê Servo Motor û Linear Imported

Pêdiviyên Power

380V / 50Hz / 16A
FAQ
---
1. Fibergirtina kişandina lazikê çi feyde ye?
Fiber-laser cutting machine is the source of laser beam source to output laser beam into density high power, which artifacts focus on the field of irradiated fused and gasified. Piştre serokê laser ji aliyê pergala CNC ve tê veguhestin bixweberên otomatîk bixweber bike.
2. Ma kîjan materyal dikare fiber laser machine cut?
Stainless steel, stainless steel, stainless steel, galvanized galvanized, aluminum, copper, brass and sheet of metal.
3: Gelo pakêtê di dema veguhastinê de çêbû?
A: Pakbata me her tiştî faktorên zirarê berbiçav dike û ew e ku ew e ku ewle ye, û şiroveya me ya me veguhestina ewlehiyê ye. Em bi 180 welatên cîhanê veguhestin. Ji kerema xwe xemgîn nakim, hûn ê parîsê li başê baş be.
4: Çawa ku çawa makîneya sazkirin û rêve bike?
A: Teknîkê me ji ber firotanê veşartî kir. Ji bo sazkirina hin beşên piçûk, em ê di vîdyoya perwerdeyê de agahdariyê bistînin, rêveberê bikarhênerek bi rêbazê re digel. 95% mişterî dikarin bi xwe re fêr bibin.
5: Heke ezmûn çewt e ku ez dikarim bikim?
A: Heke bi van pirsgirêkan re bisekinin, ji kerema xwe têkevin me asas û hewce ne ku hewleya xwe bi destê xwe an an kesekî din çareser bike. Em ê 24 saetan bersîva ku em dikarin ji bo we çareser bikin.